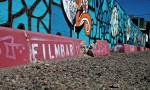 Not Your Ordinary Parking Lot: A Mural Done By Jesse Perry
Continuously obsessed with murals and huge pieces of artwork, I caught wind of a piece being done by a local and familiar artist Jesse Perry in Downtown Phoenix a couple of weeks ago, so I had to check it out. Located along the Film Bar's outside parking lot, I'm glad I finally got a chance to check Jesse's newest project. Easily one of my favorite artists out of Arizona, his style is always original and extremely precise, making the complexity of each piece seem completely effortless. And with an imaginative collection of barnyard characters filling up the whole wall, it's definitely something you gotta see.
Which character do you guys like best?… I like the Owl and the Rooster.