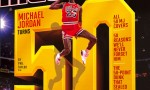 Michael Jordan- The G.O.A.T.
Michael Jordan Covers Sports Illustrated for the 50th Time
To join the celebration of the iconic superstar's 50th birthday, Sports Illustrated placed Michael Jordan on its February 18th cover for a record 50th time. In this week's issue, Senior writer Phil Taylor looks at Jordan's lasting effect on basketball – and sports in general – and examines his recent stint as a basketball executive for the Charlotte Bobcats. As with all media requests from Sports Illustrated since the beginning of his basketball hiatus, Jordan refused to be interviewed by the magazine. Additional editorial elements coinciding with the celebration include all 50 MJ covers, "50 reasons we'll never forget him," and the perfect 50 dunk that sealed his legend. Looks like a good collection, make sure to check it out.